From Portland's IndyMedia...


On March 22, a Portland police officer shot and killed a mentally ill houseless man at Hoyt Arboretum. Jack Dale Collins was an important figure in the Portland houseless community, known and loved by many. His killer, Chris Walters, responded to a call about a "drunk transient," of which Collins was neither, and shot him four times within three minutes.
This occurred around 3:00 PM. Within five hours, about fifty people had gathered in a public park on eastside to discuss strategic reaction to the second police murder this year. A spontaneous march to the Burnside precinct was lively and militant in nature. The same scene was repeated the following evening.
The following days were filled with a diversity of tactics in resistance to state and police violence. Organizations like Everyday People, who formed in the aftermath of the Aaron Campbell shooting, pursued reform along legal lines as they had before. Churches discussed community assemblies and planned speaking engagements with Jesse Jackson. The Portland anarchist community, which has been notoriously quiet for a few years, has exploded into action.
This seems to be indicative of a larger trend within the North American anarchist space. For several years, anarchists have been turned inward, creating a public face of the occasional animal or earth liberation communiqué and a whole lot of punk shows. Popular ideas seem to be moving to a place of open anarchist identification within larger communities, with dual focuses on insurrection against the state and solidarity-building projects within communities.
Anarchists and other radicals in Oakland, San Francisco, Seattle, and Olympia picked up the banner of anti-police sentiment bravely after the March 29 march in Portland received much corporate coverage as a "riot." Friends of friends of friends exist in every major city. People were talking.
Within a few days, a call-out occurred for West Coast days of solidarity on April 8th and 9th. It is unknown which city first made the call. Pre-existing relationships between anarchists of different cities were used to coordinate action, as well as independent media websites such as Portland Indymedia and Indybay.
Thursday, April 8: San Francisco radicals planned to occupy a BART platform, an action meant to push for further accountability for the execution of unarmed Oscar Grant III by BART police on New Years Day, 2009. At 4PM, demonstrators flooded the Embarcadero Station platform and chanted. Hundreds of flyers handed out to commuters explained that there were officers involved who had not been investigated at all, and demanded that BART police as an institution are disbanded. As of this writing, no demonstrators have been arrested for the BART action.
635 miles north, in Portland, the first day of action was a road blockade at NW 13th and Everett by anarchists and other radicals. At 5PM, anarchists rushed into the street in full black bloc, quickly stretching caution tape between the four corners and moving pallets, planter boxes, dumpsters, and newspaper boxes into the intersection to strengthen their barricades. The intersection was chosen because it is historical to Portland. In 2006, Portland Police beat James Chasse nearly to death there. He suffered 16 broken ribs, 46 contusions, and multiple blows to the head. Chasse, a houseless poet and musician, died after being dragged into the patrol car. The entire incident happened in front of an upscale restaurant where people were dining.
Flyers were distributed about Chasse's death and anarchists held down the intersection for an hour, as previously planned. Demonstrators engaged with customers of the same restaurant about the lack of accountability surrounding Chasse's death. Corporate media noted that the police had "dispersed" the demonstration. However, this reporter's investigations indicate that the anarchists arrived and left on their own time. After an announcement about an assembly the following day, they melted back into the urban landscape. As of this writing, no demonstrators have been arrested for participating in the Road Bloc.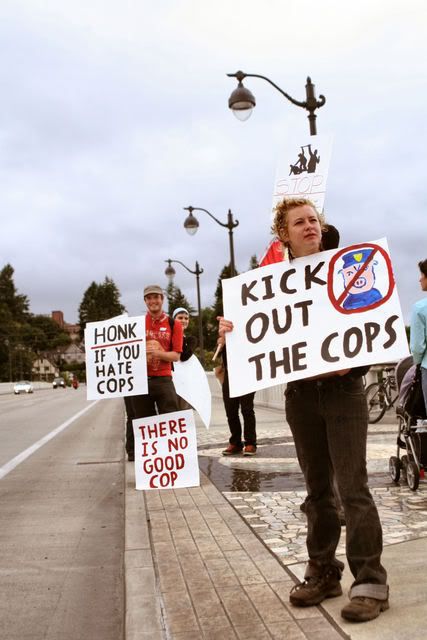 114 miles north. Olympia, Washington. At 7PM, between 30 and 100 people gathered in a parking lot. Many appeared to be anarchists, dressed entirely in black with masks and gathered behind a banner that read, "Jail the Cops, Burn the Prisons." The march proceeded towards the downtown area, occasionally erupting into militant action as members of the black bloc broke bank windows, spray painted anti-police slogans, and disrupted corporate media coverage of their actions. Eventually, 29 demonstrators were corralled and arrested. Most were booked and released. Two demonstrators were accused of attacking police officers, and two others of attacking a corporate media journalist. They made their first court appearances on Friday afternoon.
Police Commander Tor Bjornstad of Olympia remarked, "It may be related to similar protests in Portland, Oregon." Call-outs in the weeks leading up to the Days of Action and communiqués received later are open about the network of anarchist organizing. The solidarity actions took form all along the West Coast. Corporate media coverage is increasingly aware of the solidarity implied by the simultaneous Days of Action.
Friday, April 9th: About 100 people gather in front of Seattle community college and begin to march, snaking around Capitol Hill. The march seemed to be made up of an anarchist contingent, a houseless youth contingent, and a more varied crowd of demonstrators. The march was heavily policed from the outset, and police officers violently prevented marchers from taking the streets. After demonstrators attempted to pull a dumpster out and use it to protect themselves from the police, five arrests occurred. The arrestees appeared to be injured during the encounter. Only three of the five were booked and the march dispersed soon afterwards.
145 miles south. Portland, Oregon. As promised, the anarchists were back at the notorious downtown intersection at 5PM. This time, the police were not caught off guard. Bike cops and mounted police lined the streets, outnumbering the demonstrators markedly. However, the same public call-out that had stimulated police repression also invited many concerned members of the public, including students, houseless individuals, and parents. Flyers were dispersed to passersby and diners at the upscale restaurant explaining the Black Bloc tactic. Fox News and the Portland Police were disappointed when the crowd gathered in a large circle, found a facilitator, and proceeded to hold an intense discussion about the role of police in their communities, alternatives to the police, and the viability of different tactics of resistance. The assembly moved a few blocks to a park after about an hour, being joined by more families and a few angry folks in opposition. People spoke their minds, exchanged contact info, and the action was over by 7PM. Ending with "One chant to unite us all: Cops, Pigs, Murderers!"
The successes and failures of individual actions aside, we must count it as a victory that anarchists and other radicals were able to coordinate simultaneous actions in several cities. Widespread resistance indicates a widespread problem, which lends credence to the idea that police violence is not a few bad apples, it is a poisonous tree that must be uprooted.
Besides proving the ability of anarchists to coordinate nationally, this past few weeks of actions has began to hint at the power of those in opposition to the state. Corporate media has implicated fear at the reactions of anarchist response to continual police murder proving that they are becoming a legitimate threat. Not only in their ability to attack the state, but also to create healthy alternatives outside of it.
As of this writing, another man has been killed by police this weekend in Cornelius, Oregon. Based on initial information, it seems that the circumstances of his death were similar to the James Chasse murder. More actions are being planned. Will the fledgling network of West Coast resistance grow and respond to the constant threat of police murder? Only time will tell.