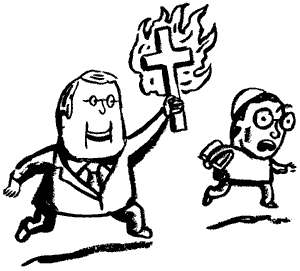 More dirt on Falwell, may the mudslide never falter.


By Robert Parry
Go to Original

The Rev. Jerry Falwell's death will elicit scores of eulogies on the good the televangelist did, even while acknowledging some hurtful actions, such as blaming gays and civil libertarians for 9/11. But there is another little-known chapter of Falwell's career: his collaboration with a Korean cult leader bent on transforming the United States into a theocracy.
Like other prominent Republican figures, Falwell entered into a behind-the-scenes alliance with the Rev. Sun Myung Moon even as the self-proclaimed Messiah was denouncing America as "Satan's harvest" and vowing to incorporate the United States into a worldwide theocratic empire that would eradicate all individuality.
Falwell sought to conceal his relationship with Moon, sometimes denying (falsely) that he had benefited from Moon's financial help or that he had been photographed with the cult leader. Other times, Falwell sought to justify his acceptance of Moon's largesse.
"If the American Atheists Society or Saddam Hussein himself ever sent an unrestricted gift to any of my ministries," Falwell said in response to a question about Moon's financial assistance, "be assured I will operate on Billy Sunday's philosophy. The Devil's had it long enough, and quickly cash the check." [See "Moon-Related Funds Filter to Evangelicals," Christianity Today, Feb. 9, 1998]
Falwell's acceptance of Moon's mysterious money was first disclosed at Consortiumnews.com in fall 1997. In a pattern common to Moon's financial operations, the Korean cult leader stepped in when a leading American conservative, in this case Falwell, was facing potential financial ruin.
In 1995, the jewel of Falwell's life's work – Liberty University in Lynchburg, Virginia – was facing bankruptcy. Then, seemingly out of the blue, money became available through a small non-profit organization to buy up a large chunk of the school's debt.
On Jan. 28, 1995, a beaming Rev. Falwell told his Old Time Gospel Hour congregation news that seemed heaven sent. Falwell hailed two Virginia businessmen as the financial saviors of debt-ridden Liberty University.
"They had to borrow money, hock their houses, hock everything," Falwell said. "Thank God for friends like Dan Reber and Jimmy Thomas." Falwell's congregation rose as one to applaud. The star of the moment was Daniel Reber, who was standing behind Falwell. Thomas was not present.
Reber and Thomas earned Falwell's public gratitude by excusing the fundamentalist Christian college of about one-half of its $73 million debt. In the late 1980s, that flood of red ink had forced Falwell to abandon his Moral Majority political organization and the debt had nearly drowned Liberty University in bankruptcy.

Reber and Thomas had come to Falwell's rescue in the nick of time. Their non-profit Christian Heritage Foundation of Forest, Virginia, had bought a large portion of Liberty's debt for $2.5 million, a fraction of its face value. Thousands of small religious investors who had invested in church construction bonds through a Texas company were the big losers.
But Falwell shed no tears. He told local reporters that the moment was "the greatest single day of financial advantage" in the school's history. Left unmentioned in the happy sermon was the identity of Falwell's real guardian angel, the person who actually was protecting Falwell's financial interests...Read More...